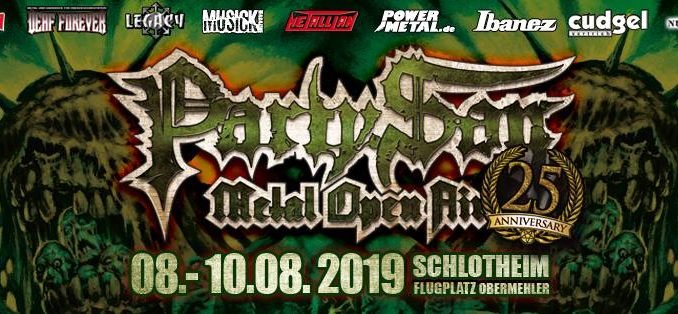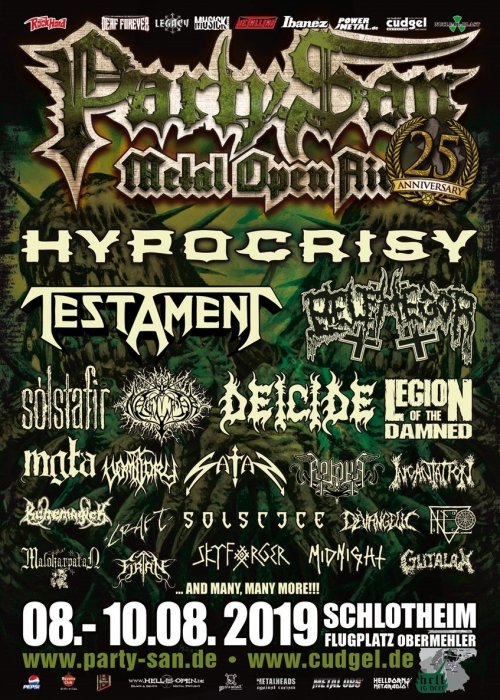 Preview

Party.San Metal Open Air - Airfield Obermehler Schlotheim 2019
The next edition of the PARTY.SAN Metal Open Air on 8th to the 10th of August 2019. The 25th edition will take place at the airfield Obermehler near Schlothei. This one is one you will not want to miss! an explosive mix of bands from around the world. Also this year it will gonna be loud, stick hard and more Extreme.
PartySan has been providing all visitors with a proper dose Extreme Metal, The event will mainly Death Metal, Black Metal, Thrash Metal, Doom, and Grindcore, which providing most great Line-up every year, some of the band are Are regular guests, a lot a newcomer band, also more Underground bands will joint at Party.San 2019
Which 3 Extreme days will placed in an airfield. Through the asphalt runway and the grassy campground you are largely independent and can give yourself the full roar of extreme metal in 2 Stage which one Main Stage and Tent Stage which easies for the visitor switching between 2 Stage and also easy to reach the place to get some food and drink or go to shopping in Metal Mark and a lot more thing.
Billing so far
BELPHEGOR | NAGLFAR | ARKONA | MALOKARPATAN | RUNEMAGIC | SATAN | CRAFT | INCANTATION | GUTALAX | FIRTAN | ASCENSION | VOMITORY | TESTAMENT | HYPOCRISY | DEICIDE | SOLSTAFIR | MIDNIGHT | SKYFORGER | NAGLFAR | MGLA | LEGION OF THE DAMNED | DEVANGELIC | HELLHAMMER |ROTTING CHRIST | DEFEATED SANITY | SUICIDAL ANGELS | UNDERGANG | DESTRUCTION | JUNGLE ROT | BLOODBATH | THANATOS | SVARTIDAUDI | THE CROWN | STILLBIRTH | SOILWORK | BALMOG | KRISIUN | TAPHOS | SLAEGT | IMMOLATION | DAMNATION DEFACED | GOAT EXPLOSION |VULVODYNIA | NEKROVAULT
About the line up Will be updated soon
More Info: https://www.party-san.de/informationen/
https://www.party-san.de/news/
See you soon at Airfield Obermehler Schlotheim, PartySan 2019