Party-San Report on Friday 11.08.2017
We hope that on the second day Party-San is better than the first day, but today it looks the same when I am wake up in the morning it still rains and it does not stop. just hope it will be stopped before the first band gonna play at Main stage. after few hour wait finally rain are stop but from far away seem the black cloud is moving to us seem gonna big rain is coming again, just hurry to get some breakfast and after that prepare our stuff for second day adventure at Party-San.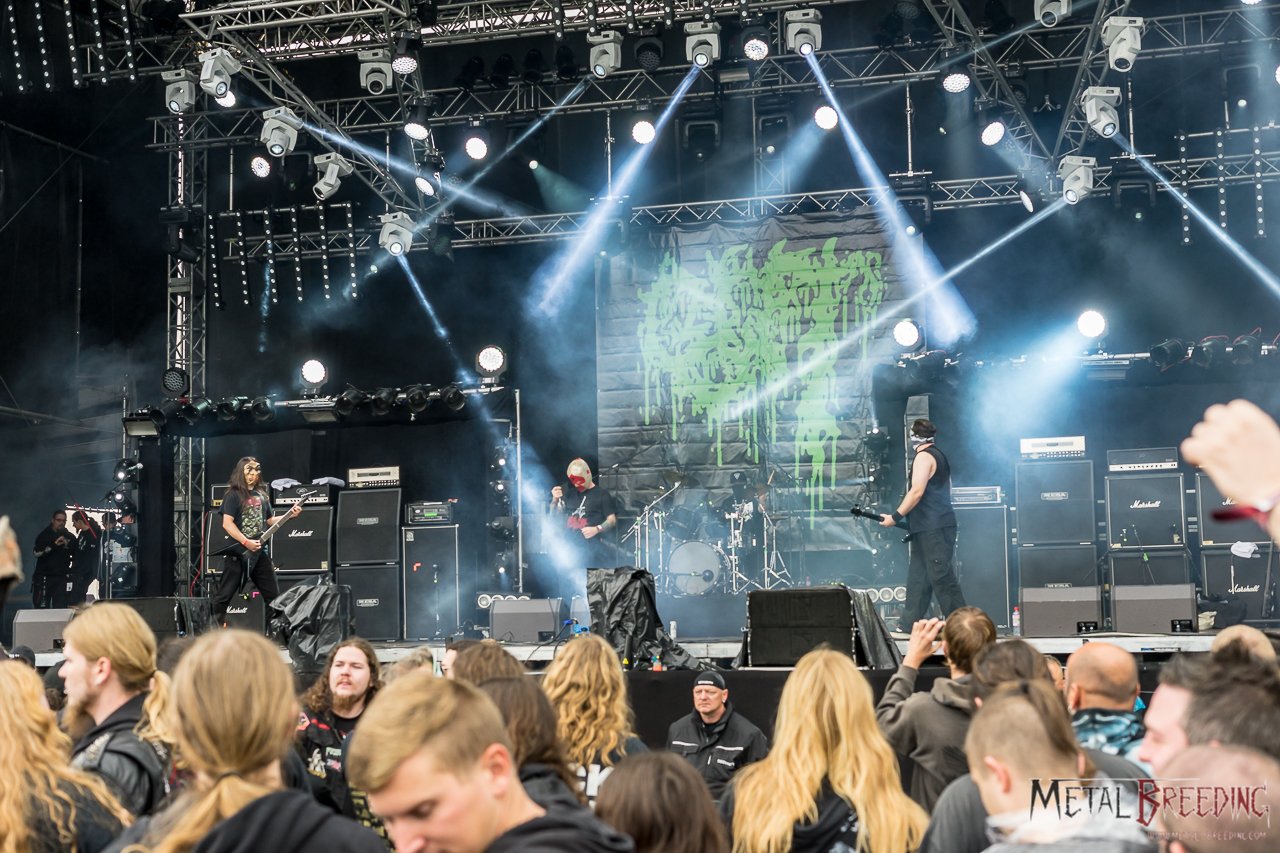 Today will gonna start with party Circle Pit as a tradition at Party-San on Friday which Grindcore band is opening the Main stage. it has quite crowed at the time which most of the Audience wearing a funny costume waiting for the party with Gut. Gut is a Germany Grindcorband band. which style is characterized in comparison to the classic slower and rock as simple, but they seem not a Grindcore there something missing in the Grindcore category. anyway, the band can reach to make all the audience wake up to get warm which big a Circle-Pit in middle stage ground with all kinds of funny characters, who were running around in a crazy way.
The real legend of Underground Death Metal from Finland Demilich,
which formed in the early 1990s. since 1993 the band has been few time are reforming. even though their only album is almost 25 years back. The applause after their appearance was great and the guys had deserved it. with delivers nasty old school sound it made the crowd going crazy. it was a great performance.
Continue with Thrash Metal from New York Demolition Hammer. The crazy New Yorkers were back with a bang and it's a bang that would not leave ahead in an upright position. with brutal raw sound, pounding songs puked out by angry old men, it has been delivered what a force, and what kind of energy they had. Steve (vocals, bass), who told the crowd that they just are not crazy enough and he wants to see more crowd surf come to the stage. I think that the amount of "fuck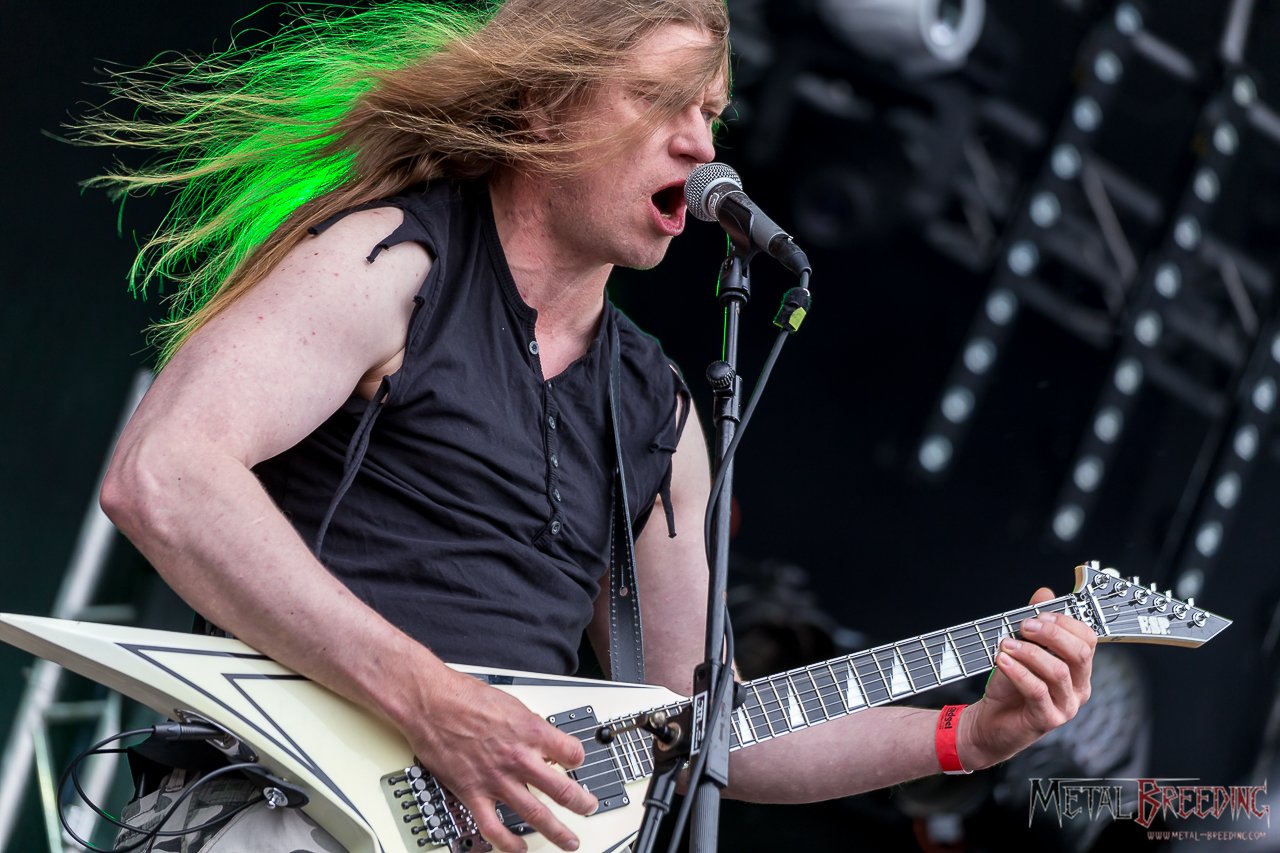 " that was said during this gig was surpassed by nothing or it was a lost of the words to say. it was fun to see them on the stage with groovy and catchy sound.
Next will join us on the main stage a Melodic Death Metal from Finland Kalmah. even the band are not my taste but they are all very good musicians and great experience in live performance. The band influenced by death metal, Thrash Metal, and Speed Metal exhibits some neo-classical metal elements in their music along with prominent keyboard melodies.
Finally the band I was waiting for will hit the Main stage Vital Remains. The band I wanted since before to see in live now they are in from of me. after few minutes after check sound come a guys from backstage walking into font stage with a book in his hand. I was thought he will read the book but not I was burned the book. it was vocalist Brian Werner very ceremoniously burning with a torch an old testament. to begin to distribute wax and speed with "Where Is Your God Now" took from the late album from 2007 "Icons of Evil" where already we could enjoy riffs brilliantly interpreted and of Brian Werner in all his splendor to the voice, it was impressive which speed and brutal sound faster riffs mix blast beat a drum and very technical with an awesome guitar solo. "Icons of Evil" where I emphasize the double hype that at times looks like a machine gun; guitarists capable of combining murderous rhythmic foundations, what for a great show it was a blast to see them here at Party-San 2017.
Uada a Melodic Black Metal from the USA will hit the stage, the 4 guys are wearing the black hoody and covered the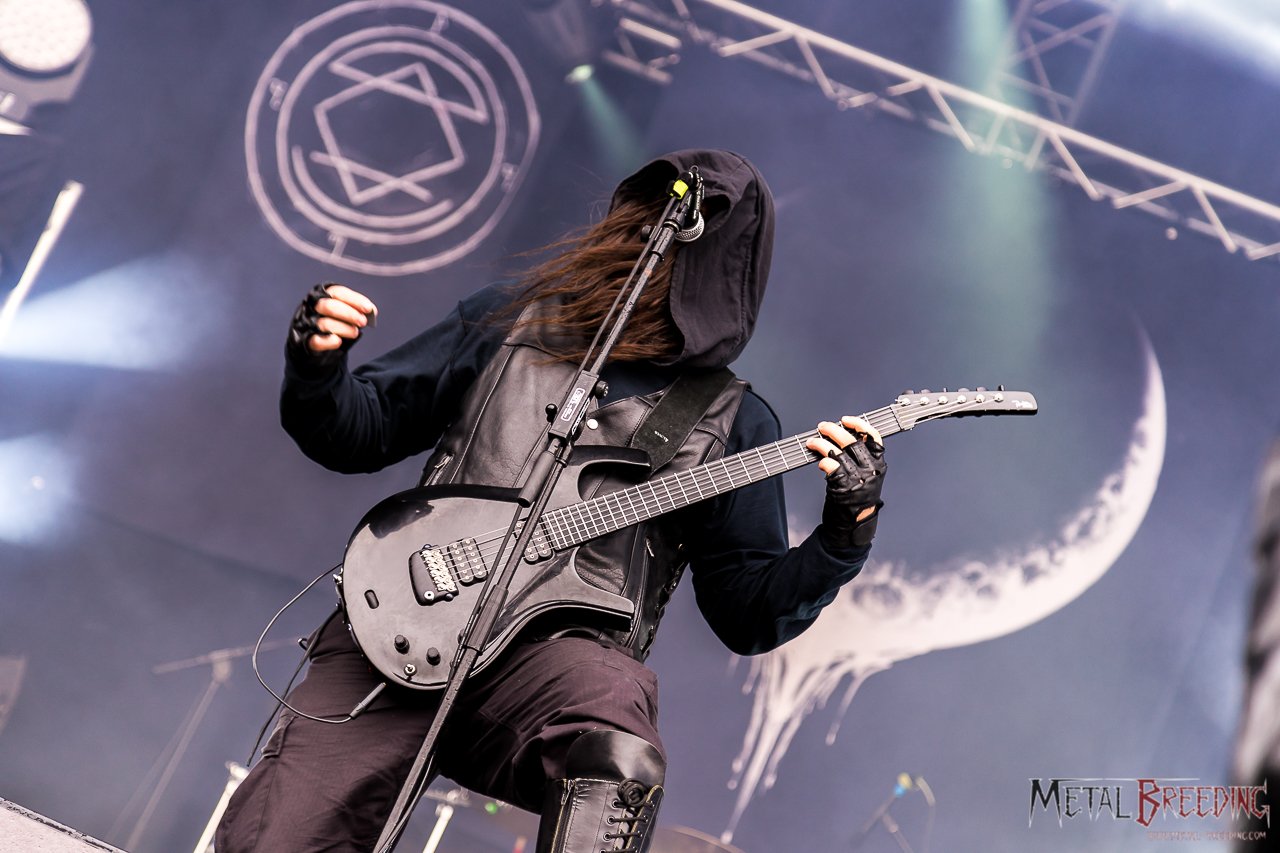 face it was remembered me some of a band from polish Mgla. With their only album so far, "Devoid Of Light", they have powerful material in their luggage and manage to cover the festival area in the dark despite the persistent daylight. The four characters, who also make themselves at Pillorian and Infernus, play their set down fast and error-free and leave tons of satisfied festival visitors. Very strong performance.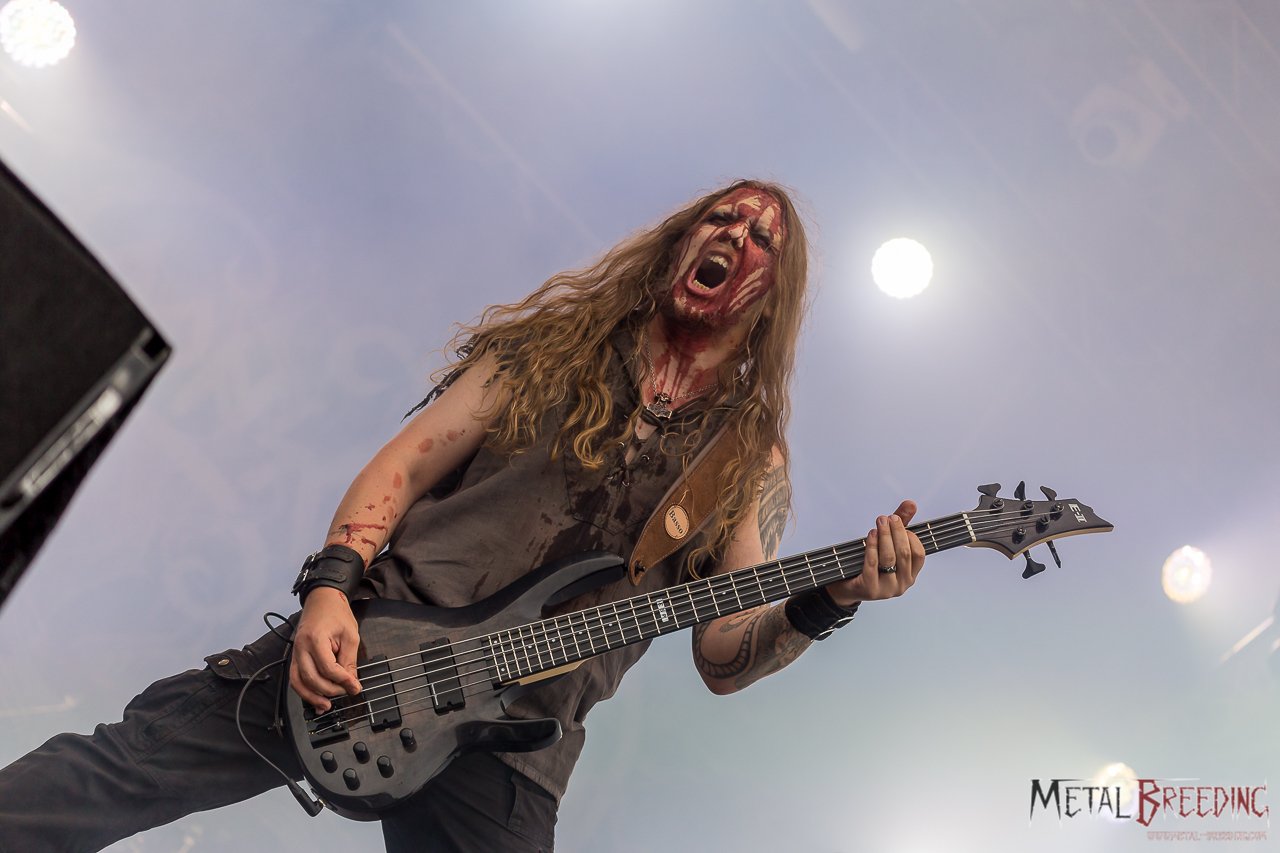 A Finnish Pagan Metal mixture elements of folk and Black Metal, Moonsorrow. the guys entering the main stage with a white mask with splashing blood on their face and body which hastily presented their old sound, seem ready to bring a darkness atmosphere for us. which are black metal in basis, but add more melodies to their sound, an epic feel. "Jumalten Aika " which sounded forceful and precise followed by the magnificent and intense" Suden Tunti ". In the final track came "Sankaritarina" and "Ihmisen Aika (Kumarrus Pimeyteen) which demonstrated all their quality with epic melodies, great choirs and quite aggressive. great performance gives the length of the songs might have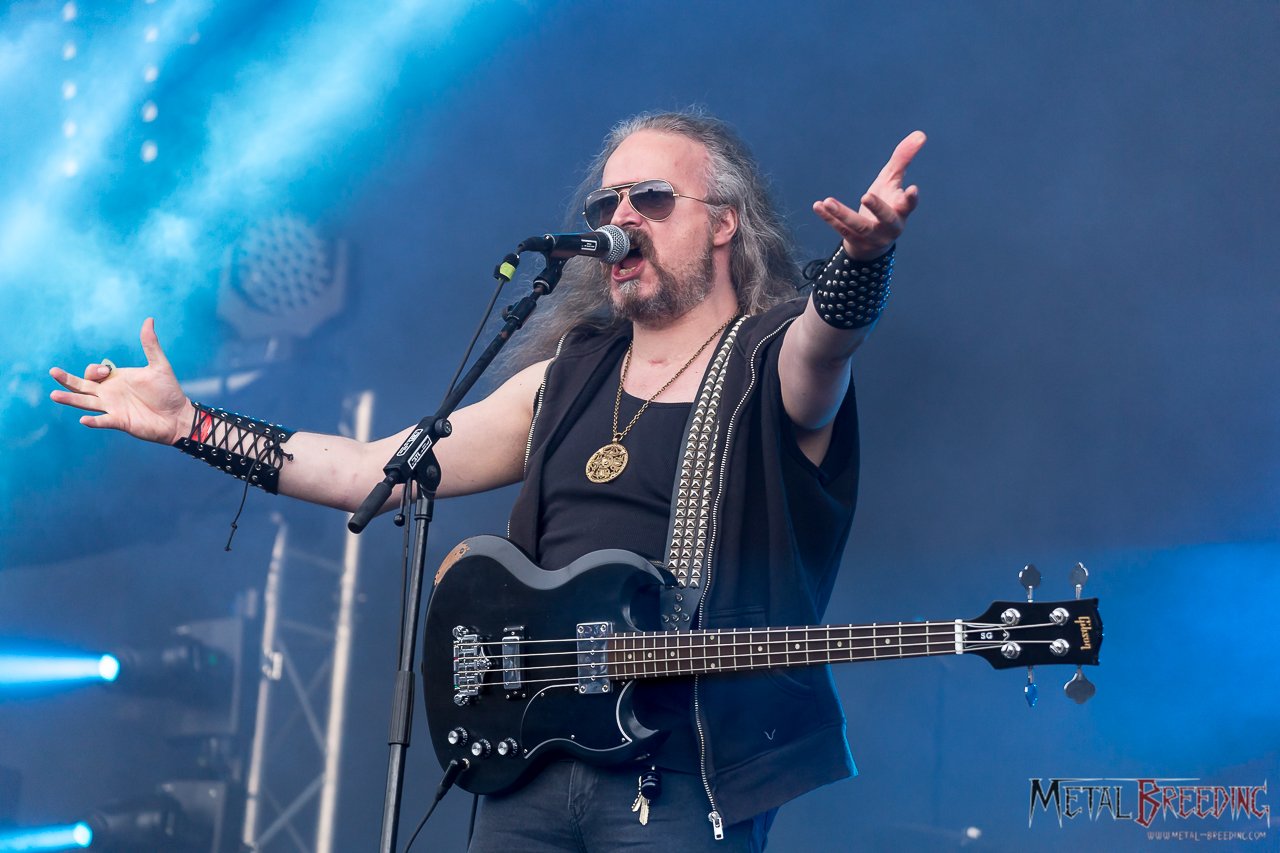 been somewhat short in duration.
Unwittingly the time passes unnoticed, which five bands are gonna play on the main stage. before the next band hit the stage it time gets some food and grabs some more beer. from there corner, we can see all crew are busy at main stage prepare for the next band Aura Noir. the classic Black Thrash they are has been at Party-San more lest for 7 years ago. the band Sounds like venom in hard and shreds like hell. great musician tight performance.
The Polish old-school Death Metal from Vader. although are rain but most of the fans of them going crazy waiting for the show begin, the most of metal head know them the band has been delivered many great albums. The band was formed in 1983, the same year as the first death metal pioneers Possessed and Death but at that time Vader was a Heavy Speed Metal band after they are developing into Thrash Metal and finally Death Metal which brings out the first demo album in 1986 "Live in Decay". They are unique and had own characteristic music style and killer sound with mixed from faster in to slow riffs and groovy. which great melodies in every single track. it makes all of the audience going crazy with circle pit and continually crowd surf make all the security keep busy. it was great to see them and listening all great track from them. killer performance.
The South Carolina Death Metal band Nile.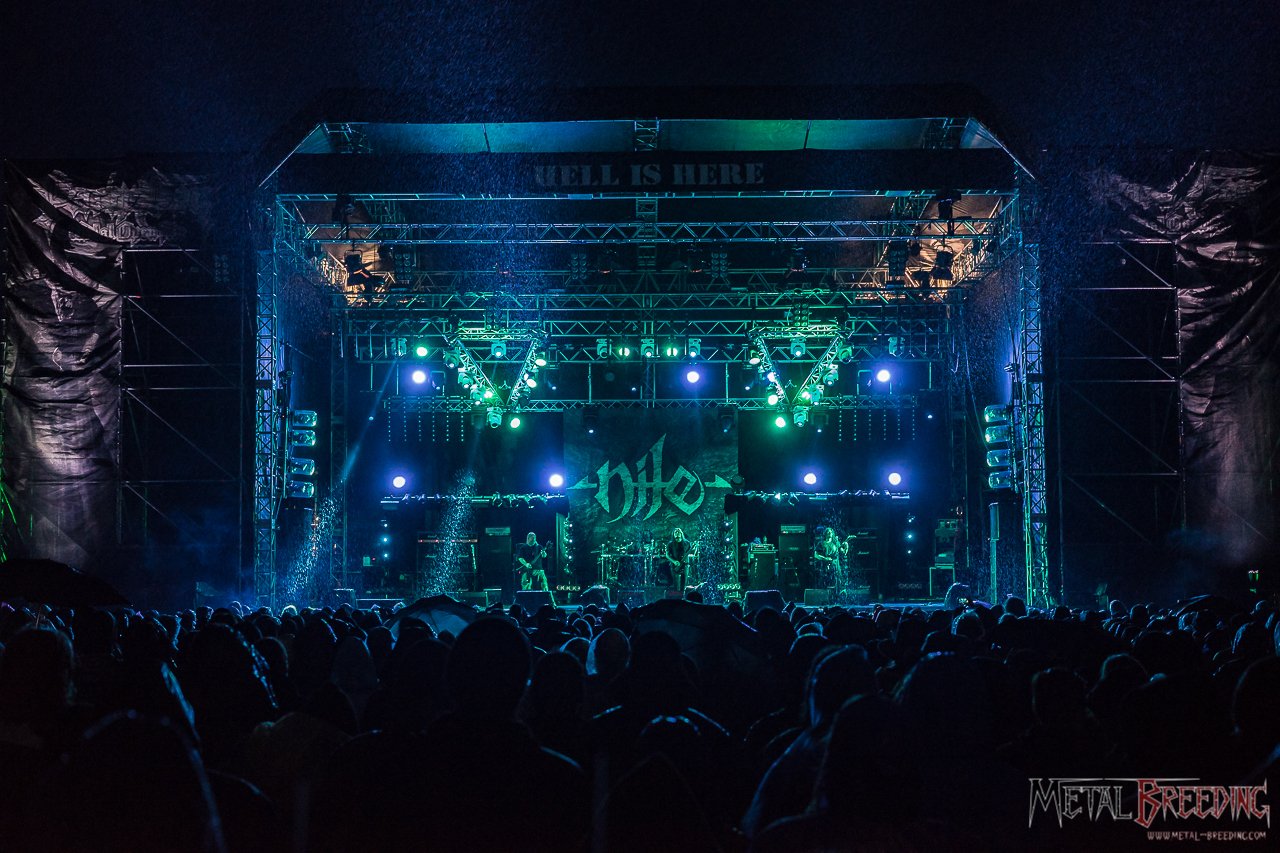 The mix between rough Death Metal and Egyptian, brutal riffs combined with melodies that will obviously remind you of the Middle East, definitely catching on. I'm just curious with a new member of Nile, without Dallas Toler-Wade on the stage, it weird. but what I hear from the stage the band seem are the same as Nile i know before. they did good work the band still worked as like usually."Unas Slayer of the Gods " "Sacrifice Unto Sebek" was awesome and excellent Egyptian atmospheric intro. both of the track blows me up and most audience going mad down the stage headbang and crowd surf .was excellent show great sound and awesome setlist.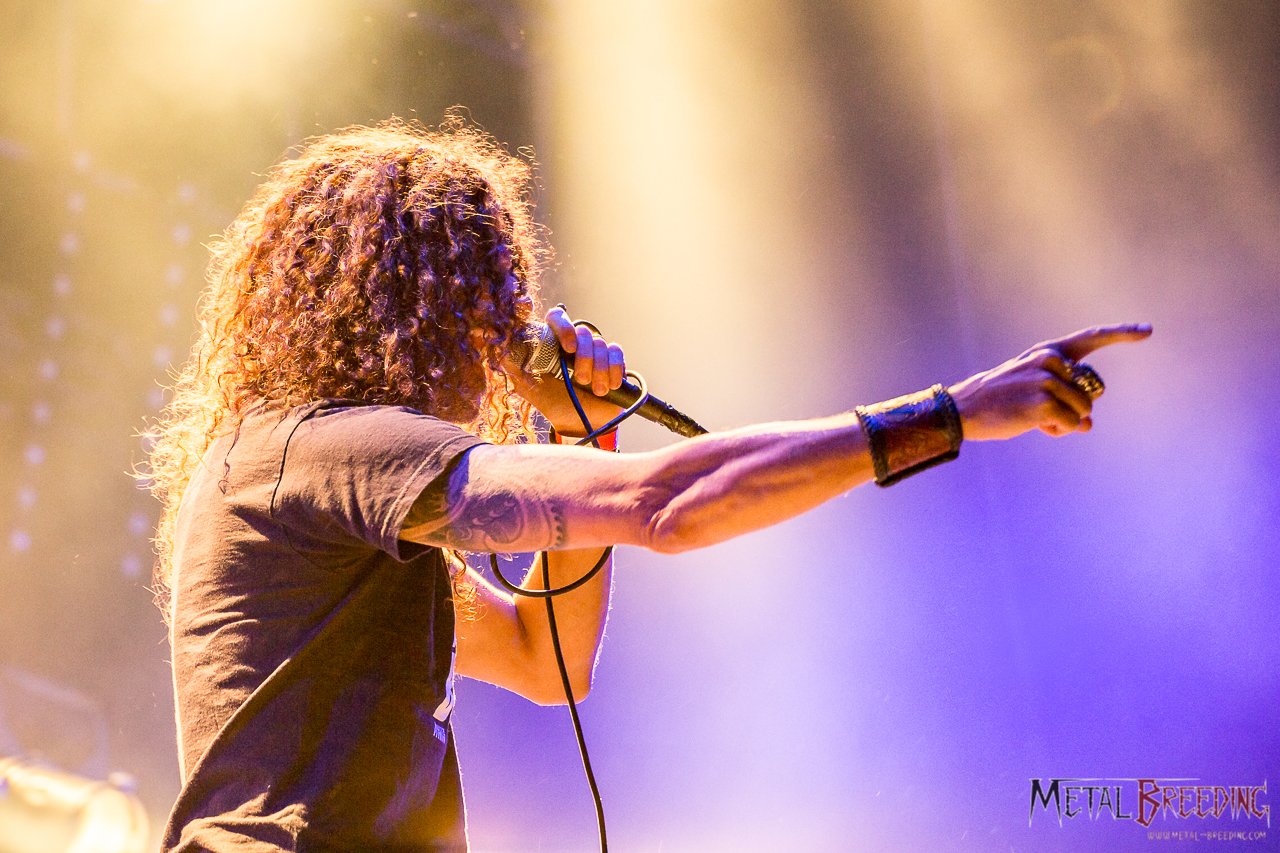 Almost the end of the event today on Friday at Party-San which a Swedish Doom Metal Candlemas come up next at Main Stage. The band had a problem with the Airplane which some of the luggage and music equipment are relocated. they must borrow some of the equipment from another band that they can play. They started their recital so that to the rhythm of the intro were leaving the members of the band little by little until the appearance of their vocalist Matos Levén, to open with " Mirror Mirror " The voice and the stage presence of Mats Leven take the attention of an audience that responded to each one of the provocations of the same one. awesome performance but that band are not touching my felling it feels no something special from them.
The last band which the headline band to close of the Main Stage on Friday Autopsy.
A death metal band, founded in 1987 in the United States by Chris Reifert and Eric Cutler. the band was broken up in 1995 and reunited in 2009. they band was one of a pioneering band in the death metal and death-doom genres. which Chris Reifert the drummer as vocal, he seems enjoyed from back the drum. growling while playing the drum. it was awesome it hard to sing in same time play drum. it was excellent with roaring guttural, crude and sustained guitars and most of the old school and slow deep riffs, like "Critical Madness" That riff is incredible but simple. very tight show and good atmosphere in the public for the land band.
Was a great time, showed a lot of great bands hang out with friends, even the weather is not so friendly just hope my Tend are not wet that I can get some sleep and save the energy for the next day.